Makeup Revolution is a British brand that's available at Shoppers Drug Mart, and it's quite affordable.  This palette is just $8 which is a great price for the range of colours that are in it and for the pigmentations that these have. This palette is the Neutrals 2 palette, so it's got neutrals but they all have a rust/red element to them.  Even the browns go on a bit ruddy, as do the shimmers.
I liked that there are tons of matte shades to work with in this palette.  They show up on my skin and are very pigmented.  I also liked that the red component pushed me out of my comfort zone. I'm thinking that lots of these colours would work for a more dressed up look but there's enough muted shades that it would work for daytime too.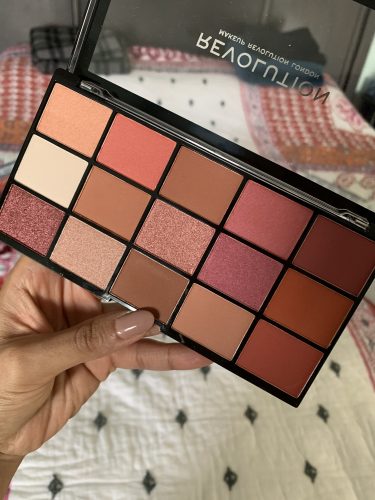 My one issue with this palette is that there are no deep dark shades to anchor a makeup look.  I'd love a matte deep brown I could use in my brows or a black for a liner.  If I was traveling with this palette, I would have to carry those colours separately which seems a little silly when there are 15 shades in this palette and some of the matte browns are so similar that you could easily take one out.
I also miss a glitter colour.  I love wearing glitter on its own or as a pop on top of any of these colours, and so this is missing that too.
All that being said, if you're playing with makeup, this is nice to have and play around with.  Watch the video to see the eye look, and I even used one of the shades as a lip color.