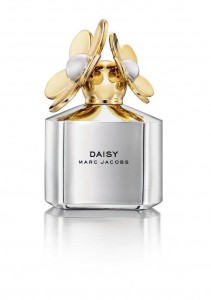 I love how instead of product the (often sneered at) flankers to his perfume like most companies do, Marc Jacobs chooses to switch it up.
Now, if you're a Marc Jacobs fan, or if you simply love Daisy so much that you want to keep wearing it, you can get a totally new version of Marc Jacob's Daisy called Silver Edition. It's a silver bottle with gold daisies on it and has the same Eau de Parfum as the original and the whimsical ladybug edition that was launched earlier this year.
The notes are wild strawberry with citrus opening, with a jasmine, gardenia, violet petals, and musk drydown. It's really a very pretty scent.
The 100mL will retail for $102 beginning this month.