Ok, so I've covered tons of contour products at this point.  There was the Kat Von D Contour Kit which has tons of shades and is perfect if you're changing up your look on a regular basis or if you're a makeup artist.  Really this is the one kit that I have within reach because I know that I'm going to be able to create the perfect contour colour for me.  There was the set of products in the Urban Decay Naked on the Run palette, and it's so awesome that I still have it within reach, although the blush is too bright for me these days.  There's also the new Make Up For Ever contour palette which I was actually dying to try, but I've determined that it might be too shimmery for me to use on a daily basis and I have it on hand for special occasions.  I've also tried the Clinique contour sticks but the colours don't work for my skin tone and long ago there was the Nars contour duo which I don't use because I thought the colours weren't right for me either.    
But now, I have this gorgeous HUGE Marc Jacobs #Instamarc LIght Filtering Contour Powder which is aptly labelled because it does help your skin look as if you've used the help of a filter.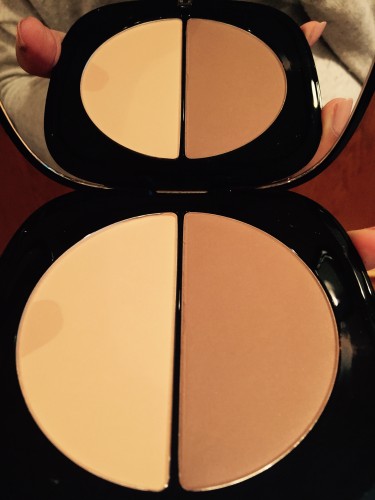 For the record, I've figured out why they made this palette so huge: it's so you can see your whole face in it, and that's awesome because it really lets you see the high and low points of your face so that you can contour and highlight properly.
This palette is more my style and perfect for using everyday because it has matte powders.  There's not a touch of shimmer in this compact and so you won't look like you have a ton of makeup on.  The powders inside are truly silky and easy to apply and seamlessly blend into the skin.  Definitely powder your foundation first, and then apply this and you'll find that it'll be hard to overdo either the contour or the highlight. 
The powders are very finely-milled and so they're silky to the touch on your face and almost invisible once applied.  
Plus, the palettes come in three shade variations, so there's something for light, medium, and dark skin tones, not to mention that if you're warm-toned or cool-toned there's something different for each of you.  
For the record, I have Hi Fi (the darkest warm-toned palette), and it's perfect for my medium-toned skin.  The powders aren't super pigmented but they are buildable so you can darken and lighten as you see fit.  I don't think this one is an option for very dark skin. 
Pick it up at Sephora for $59.