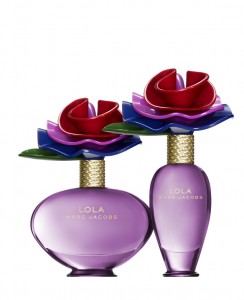 This fall, Marc Jacobs comes out with a new scent called Lola.
I have it and love it.  It is one that I can wear everyday and not get tired of it.  It is a fragrance that's lovely and pretty but isn't overly feminine.  It's young and fun without being frivolous and why shouldn't it be?  The perfumers are Calice Becker and Yann Vasnier for Givauden fragrance house.
Without further ado, notes are:
Top notes: Pink Peppercorn, Pear and Pink Grapefruit
Middle notes: Peony, Rose, and Geranium
Base notes: Vanilla, musk, and tonka bean.
Despite there being Vanilla in the fragrance, it's subtle in the drydown and you can mostly just smell a mixture of musk and flowers.
In September this will only be available at Sephora, Holt's, and Murale.  Beginning October, look for it at your Shoppers Drug Mart and other department stores.
There is only a eau de parfum for this and 100 ml retails for $105.  There are accompanying body care products as well.