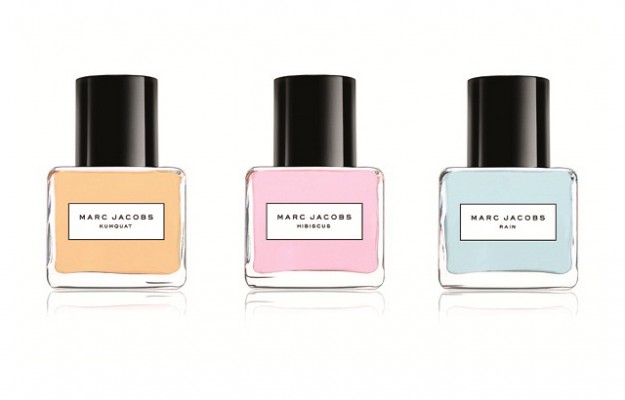 You may not agree, but I'm glad that Marc Jacobs now has the Splash fragrances in a smaller size. In the past years, I found that no matter how much I loved the smell of the Splash (Cucumber, and Rain were winners for me), I just couldn't use up the whole bottle in the summer before I went to my fall/winter scents! The older bottles were 300 ml and filled with cologne, and these are eau de toilettes.
This season, the size of the bottle is 100ml and Rain is joined by Kumquat and Hibiscus scents.
Both are light yet long-lasting, and both are floral at their base.
The Hibiscus has a notes of raspberry, mandarin, and peony at its opening, with hibiscus, tiare, and freesia rounding out the base. Appaently, there are also woods and musk, in the drydown, but I couldn't really smell them, and the fragrance was a fresh floral from start to finish for me.
Kumquat has opening notes that are more citrusy, of course, including those of tangerine, bergamot, orange zest, kumquat, and then jasmine, tiger orchid, woods and cedar. The scent starts out as a sweet citrus but then turns floral after a couple of hours.
I have to say that I liked the light breezy nature of both and both are very wearable fragrances. Rain is unisex, and would suit men or women.
Each retails for $49 at Holt Renfrew!