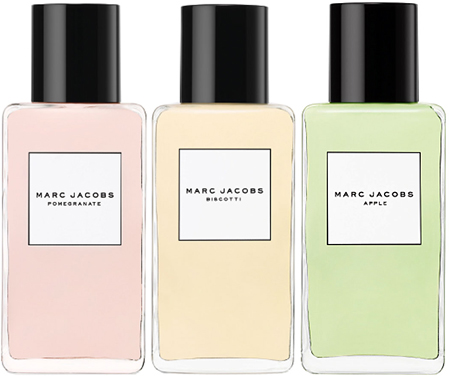 The Marc Jacobs Splash Series has some new members!  This past March, Marc Jacobs introduced Pomegranate, Biscotti, and Apple into its series of cologne perfumes, and like those from previous years, these are also sold in huge bottles so you can use them as you wish.   The Splash series has been around since 2006 and features scents that evoke the seasons.
Clearly these are more gourmande than previous versions but their drydowns are more wearable than you might think!
Apple Splash has notes of apple, lemon, grapefruit, rosemary, jasmine, magnolia, coriander and cardamom.
Biscotti Splash definitely has a sweet base, and has notes of freesia, bergamot, orange blossom, pistachio blossom and vanilla.
Pomegranate Splash is my favourite and has notes of pomegranate, mandarin blossom, bergamot, rhubarb, violet, musk, vanilla and amber (can you see why I love it).
Overall, not my fav Marc Jacobs scents, but not entirely passable either.  Even if you don't like gourmande scents (and I don't), these are worth having a sniff of, and definitely try them on and let them dry on your skin to see what they end up being at the end of the day.  The outcome wasn't what I expected and I was quite pleased with these!