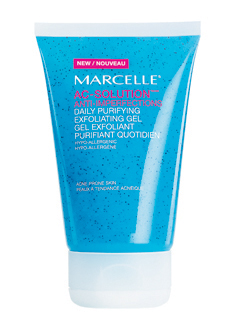 Today in my little series of exfoliator reviews, I talk about one available easily at the drugstore but one that is lovely and different from everything else out there.
Marcelle's AC-Solution line is for acne prone skin, but this exfoliator is for everyone. 
The gel formulation is oil-free and foaming so it cleans without leaving a residue on your skin.  Unlike most foaming exfoliators, this one is packed with scrubbing bits and really does slough off dead skin leaving your face super smooth and soft. 
The best part is that you get left with super clean skin.
They say that this "works even between applications to prevent imperfections and improve the appearance of acne-prone skin" but I have to say that this isn't the case because all the active ingredients do get washed off. 
For $15, this is a fantastic product that I'm going to continue to use over the summer.  Pick it up at your local Shoppers Drug Mart.