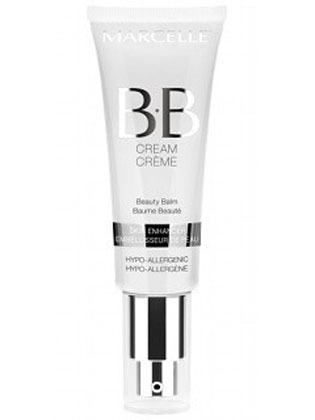 This is possibly the hottest product on the market – possibly because it was one of the firsts on the Canadian scene, and maybe because you can get it before it even hits shelves.
Marcelle's BB cream is another way to make your skincare do more.
This cream leaves your skin nice and matte, plus enriches with antioxidants and doesn't mask the way that foundation can – perfect if you can find the right shade since this one only comes in 2 and both of them are on the light side.  Those that are very fair will find that there isn't a shade for them, and anyone darker than NC 30 will find the darker shade to be still too light.
I wore it a couple of times at home (because I didn't love the colour match), and found that it was nice – but not replacing my regular foundation, lotion, or SPF.  Like most other BB Creams, you can even wear this under regular foundation if you wish, and then it works more like a primer.
The cream doesn't hit counters until February, but you can buy it online NOW from Marcelle's website.  Get in on the one product that everyone is talking about!  $22.95 at drugstores or online.