By Rachel Longo-Tosoian
Getting my make off when I come home from work or right before bed can sometimes be a hassle if I do not have the right tools for the job.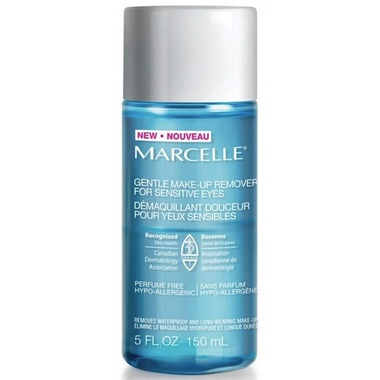 I had never heard of Marcelle before using this product, and I must say that I was impressed with the Gentle Make-up Remover for Sensitive Eyes. The bottle reads, "Removes waterproof and long wearing make-up" so obviously, I needed to try it.
The first time I used the product, I failed to read the back of the bottle (always do this), and I did not notice that the liquid inside was separated (much like when you mix oil and water.) I went to use the product and nothing happened. So ladies (and gentlemen), always read the instructions! The second time around I noticed that the liquid was separated and gave it a hardy shake; excellent, everything mixed perfectly. I applied the product to a cotton pad and away I went.
I do not have sensitive eyes, but liked this product more than the Marcelle Oil-Free Eye Make-Up Remover Lotion. Actually, I found that this one did not remove any of my make-up, no matter how hard I scrubbed at my eyes.
It did not look like much of my mascara was coming off, but in the end, everything was gone. I even ran my fingers over my eyelashes just to be sure. I really liked using this product because it does not take a lot to remove the make-up and I did not have to rub and scrub away at my eyes as I have in the past with other products.
$14.99.