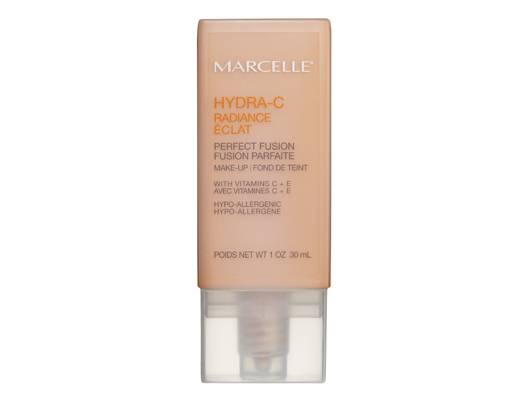 People with oily skin, your life is about to change.  I wrote about Marcelle's Mattifying Fluid but a month ago, and I didn't try their foundation from the same Hydra-C line because they didn't have a colour dark enough for my fake summer tan.  But now I'm ready, and wow, I have been loving this foundation.
The Hydra-C Perfect Fusion makeup evens out your complexion, conceals ever so slightly, and is moisturizing but dries to a matte finish!  It also have Vitamin C in it so the more you use it, the more you'll see clearer more even skin.
You can even pair this with other products in the Hydra-C line to get the full benefit of lots of vitamin C in your skincare routine.
I've been wearing the foundation for the past couple of weeks, and I have to say that my skin loves it.  The foundation is so light that it looks like my natural skin, yet at the same time it's a nice matte finish so I don't even need to powder it when I'm done.  Kind of amazing in my world since my skin tends to be super oily.
Available for just $16.95 at drugstores, this is the perfect foundation and definitely a keeper.  I can't get over how great the texture and feel is considering that this is from the drugstore.  Unfortunately, it is available in only 4 colours with none of them being on the warm side, but if you can find a shade that matches you, try it out, because it's a keeper.