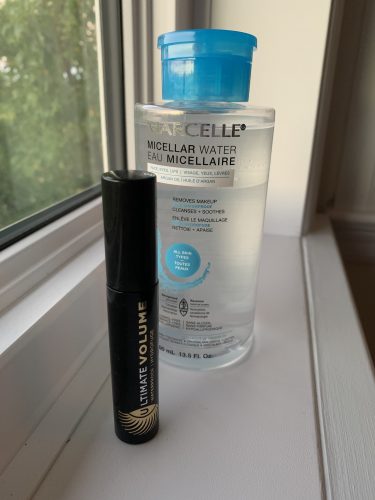 I like dramatic lashes, and so I really loved this Marcelle Ultimate Volume Waterproof Mascara.  Usually, I don't love waterproof mascara because it's so difficult to take off, but I've been using the Marcelle Micellar Water to remove and it comes off so easily.  The mascara is $11.95 at Shoppers Drug Mart or online so it's very affordable!  I also had no smudging when I used it, even if I was wearing a mask for a long time!
The Micellar Water is like a biphase makeup remover, and you shake it up before you use it.  This fall, Marcelle introduces a range of Micellar Waters – for dry skin, oily skin, normal skin, and then for waterproof makeup, and the waterproof makeup is the one that I have. $14.95, again online.
You can watch me try on the mascara in the video below!