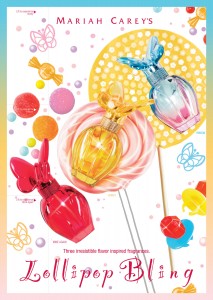 When Mariah Carey got engaged, her fiance gave her the ring inside a ring pop package.  Her new trio of scents is based on the Ring Pop idea, because they're sweet and candy-inspired perfumes.
On first sniff, I had to admit that although these are sweet, they're not cloying and actually have depth to them!  I've tried all three: Honey, Mine Again, and Ribbon, and they're mostly just sweet for the very top notes, and then they become something a little more interesting.
Ribbon is more of a floral, and though the top notes are raspberries and honeydew, this finally turned into more of a jasmine-scented confection and was a pretty white floral.
Honey is also a floral scent but it has more citrus in it.  notes of Lily, Musk and Linden Flowers make it a sweeter blend and one that's quite bright.
Then there's Mine Again which is the most gourmand of the bunch because of its chocolate notes.  The vanilla and tonka bean drydown makes this perfect for those who want more of a traditional sweet smell.
Each scent retails for $42 in an Eau de Parfum concentration.