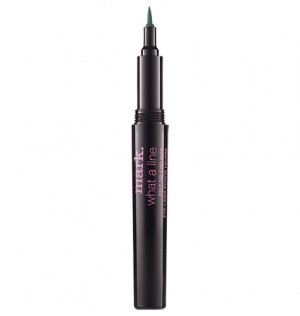 I have a thing for black eyeliner these days, and I'm sure eventually I'll hit a wall and have tried each and every single one out there.
But for now, I'll talk about a liquid liner pen by mark (the offshoot of Avon).
The What A Line Eyeliner is really easy to use, and since Lauren Conrad, one of the former faces of mark, used to wear liquid liner daily, I thought that maybe she had a hand in this liner.
Unfortunately, the liner leaves a lot to be desired because it smudged before lunch time and ended up all over my eyelids.  Yes, I do have oily skin and so I need products that can stand up to the oil, but this was one of the worst liners out there because it smudged so quickly and so badly.
It costs $9 on the Avon website and I'd use it only if I had dry skin and a handle on the oil my eyelids produce.