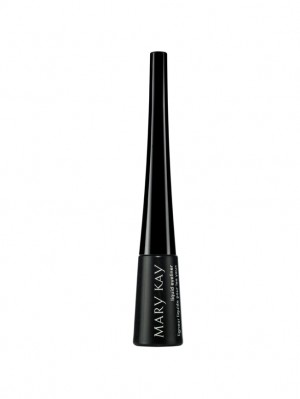 To get a really clean and polished makeup look, it's important to have a fabulous black liner in your makeup kit.  The difference between a good line and a great one is that a great one will not smudge in any kind of weather and will give you a nice clean black line not one that is dark grey or kind of black.  The line should also be matte rather than have a plastic shine to it, and it must not clump up and fall off throughout the day.  Those may be tall orders but it's what girls need for everyday liners!
My latest trial has been of the Mary Kay Liquid Liner.  I was surprised to find that the liner retails for $17.50 which is more than what most eyeliners cost.  And Mary Kay products are usually more affordable as well.
Regardless, if you can get it, this liner is awesome.
It does everything I want it to do, and it lasted through a 30 minute sweaty workout as well!  Needless to say, this liner is impressive.
Pick it up from your Mary Kay agent, or purchase it at the Mary Kay website.