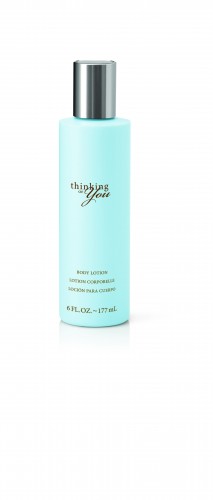 As much as I love the accompanying lotion to my favourite perfume, the problem that I frequently have is that there's usually little to none moisturizing provided by the lotion or gel-lotion sold over the counter.  My only hope has been the strongly scented Body Shop body butters that come out each year but sometimes you don't want to smell quite like gingerbread at work.
This fall, Mary Kay launched their Thinking of You perfume, and with it comes a wonderfully scented lotion.  It comes in a generous blue bottle and really smells like vanilla and honeysuckle.  Definitely on the sweet side, this scent is long lasting and anyone who sits next to you will be able to smell it too.
But, it's also a fantastic moisturizer and I've been using it sparingly on my arms and it's been doing a great job.  The scent is perfect for Fall and pairs well with smoky deeper scents that have found their way on to my vanity.
6 oz retails for $16 which is wholly affordable.  I know the name might put people off but ignore it and try this lotion.