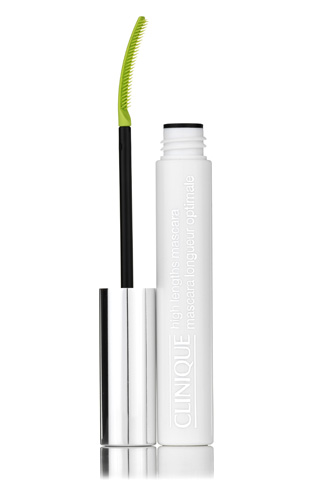 Mascara wands these days are increasingly looking like they've come out of a science fiction movie, and it turns out that they have actually been invented in labs where scientists are studying how they can best provide a product that grips the lashes and coats them evenly to make them look longer and thicker.
Clinique is no exception.
Their newest mascara is called High Lengths and when I first pulled it out of the tube, I thought I had a faulty one.  I just didn't see that much product there, but it turns out that that's ok.  The very thin wand just has mascara on the tiny little teeth so that the only things getting mascara on them are your lashes.
I really enjoyed using this mascara, and I would even go so far as to say that this is the best mascara wand that I have ever used.  It gets the mascara is just the right places and the long wand gets every single lash.  Because the wand is slightly curved and not straight, you don't need extra effort to get the lashes at the ends or inner corner of your eyes, and you can be sure that even the tiniest lash will get covered by mascara.
The formula also lets you build volume without any clumping, however, I would also add that I'm not getting a false-lash mascara effect here.  Overall, I adore this mascara, and for a department store one it is a steal at $18 because it works so well.