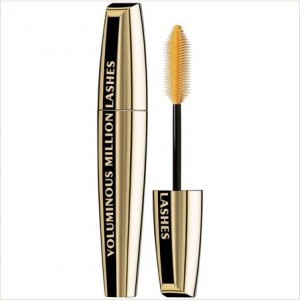 L'Oreal's newest mascara is called Voluminous Million Lashes, and I'm glad that they came out with this because I had heard that they were going to try to change the Voluminous formula and I didn't want that!  I wanted them to come out with a new mascara instead and here we have it.
Voluminous Million Lashes doesn't just have a new formula, it also has a new brush called the Millionizer.  The brush is large and has a multitude of bristles (I wouldn't say a million) that can separate lashes and so add length as well as volume.
Like the Telescopic brush, this one is also a little on the bendy side and isn't a hard brush like the Covergirl LashBlast brush.
I usually hate large brushes, but I found this one exceptionally easy to work with.  The bristles seem to grab on to my lashes, so that I can apply just on them and don't end up getting mascara all over my eyelid.
The formula is also really well made.  It separates lashes, seems to add fibers to lash ends so that they look longer, and it layers like a dream.  You can just keep adding layers and layers of mascara to give yourself really voluminous lashes, and that's what really makes this mascara shine.
I am finding myself reaching for this mascara over all others these days and I think that's because it's so easy to use and it actually gives great volume to your lashes!  I did find some flaking at the end of the day, but I think that may be due to the amount of mascara I'm applying and I don't think that it has anything to do with the mascara itself.