In a continuation of our previous article about great makeup products that can keep your skin matte, we thought we'd share some more of our favourites with you. August can be an especially hot and humid month, and we're always getting questions on how to keep oil at bay during the summer. Here are some things that work for us.
Also, we'd love to hear how you keep your skin fresh-looking in the hot weather so let us know of your favourite products in the comments.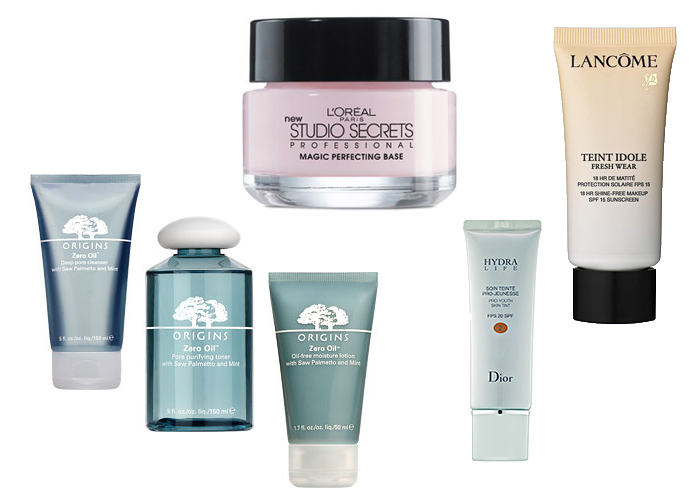 We start with basic skincare, and you can't go wrong with Origins' New Zero Oil Cleanser, Toner, and Lotion. This is three step skin care at its best. None of the products have oil in them, and all of them are refreshing to use! The cleanser foams nicely and takes of makeup and dirt. The toner is refreshing and mostly water and skin soothers, and the lotion is totally oil free, light, and absorbs into the skin to hydrate it. When you're layering on sunblock and makeup daily, it's nice to know you can use a skincare system that doesn't interfere with the well-being with your skin at all.
Next, skip expensive drugstore primer and check out L'Oreal Paris' Studio Secrets Professional Magic Perfecting Base. It's too bad that this comes in such a tiny jar because it is magical and I use it daily! It's a mix of silicons, but I think that it's the thick texture that really makes it work like magic. This stays on your skin absorbing oil for the entire day, and makeup layers on top beautifully. Powder foundation works especially well with this base, which is a first! For $15.99 at the drugstore, this is certainly worth a shot.
Of course, my advice to staying matte would be to skip the traditional foundation and go for something lighter. Foundations often have waxes and oils so that they sit on the skin for longer, and a tinted moisturizer is going to forgo that to give you just some light coverage.
I have been enjoying using Lancome's Teint Idole Fresh Wear, because it has a powdery finish that looks refined, and has SPF 15. For the days that I'm in a rush to get out the door, I use this and I know I'll be covered for the entire day no matter what comes my way. For $40, this works like a charm on rainy and sunny days.
If you want more of a glowy look instead of a totally matte one, try Dior's Hydra Life Pro Youth Tint. This has spf 20, and shimmer in the lotion to make skin look youthful and lit from within. The texture itself is still on the matte side, and I believe that's mostly because of the spf in the product. The coverage is sheer – lighter than Lancome's – but this only comes in 3 colours so if there isn't one that matches you, you might be better off with the former.