I have combination skin on a good day – and on a bad day my skin is most definitely oily and a layer of products is needed to absorb oil.  Add to that the fact that my summer adventures include hiking, splashing in the water, and generally long days which can mean melting makeup.  I have a few favourites that I'm going to share with you so that you can stay matte too!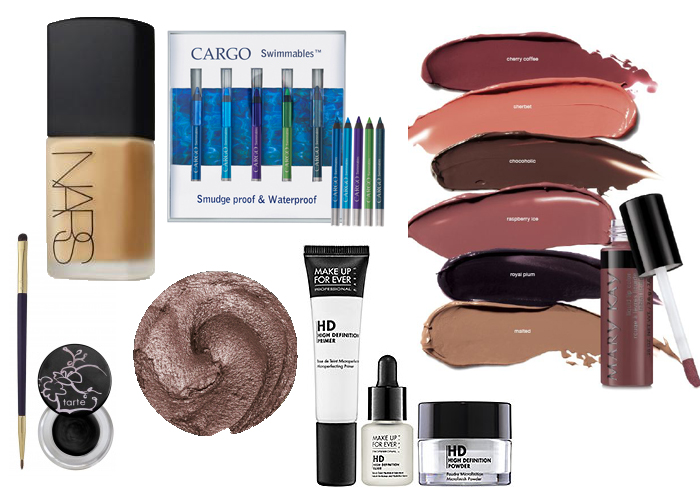 1. Nars Sheer Matte foundation review: This is probably one of the best matte foundations I've ever used because it's not cakey and has medium coverage!  Most matte foundation are really thick and cover too much but this one doesn't, and that makes it perfect for the summer.  It has a powdery yet glowy finish which is way more modern.  I love that this foundation absorbs oil and stays matte.  Seriously, I can go the whole day and not see shine at all.
2. Make Up Forever HD Complexion Travel Kit. This kit is awesome because the products are so small that you can take them everywhere with you.  If you want your foundation to last even longer, you need to use a primer, and a sheer translucent powder.  I'm taking this kit to a wedding I'm going to this summer because it has everything I need for a night out and for traveling during the day this summer.
3. Make Up Forever Aqua Cream Review: Meet the most hyped product of the summer: Make Up Forever's Aqua Cream.  This is a cream shadow (very much like MAC's paint pots, or the cream shadows by Bobbi Brown) but it comes in 22 shades so that it can be used on eyes, lips, or cheeks!
The formula is indeed waterproof.  It's oil-based so it's not going to come off in the pool, but crease-proof? Not so much.  I found that this did crease on me when I used it alone, and for best results I used it over a primer which made it amazing. I liked using it even better with a powder eyeshadow on top, and the colour that I have, Satin Brown, really lends itself nicely to that.  You get a dark smokiness showing around the sides, but can get good illumination in the middle.
Overall, these are generously pigmented (I found that a little goes a long long way), and they do stay on all day if you use them with a primer.  If you don't have greasy eyelids, I think you'll find that this really does work, and when I used some on my cheeks and lips, I found that it did indeed stay on for the entire day without even fading.  Plus, the fact that you can get it in pinks and oranges means that it does lend itself to being used all over the face.
4. Tarte Waterproof Clay Shadow/Liner Review:
I've been using Tarte's EmphasEYES Waterproof Clay Shadow/Liner and I seriously cannot get enough of it.  I have the liner in Eggplant which is a highly pigmented purple.  It's not so dark that you would mistake it for black, which actually works out perfectly because if I wanted black, then that's what I would use!
I use the purple as a liner when I want to add oomph to a taupe or neutral shadow, and I use it as a base for applying regular powder eyeshadow to.
Is it crease-proof?  Not so much.  But with a base, it does last all day, and as a liner it's never migrated to other parts of my eyelid, even though I do have amazingly greasy lids. And though they say that this is Clay Shadow/Liner, it should be noted that the liner is not clay-based.  It merely has some clay in it, and I'm guessing that they are using that angle as a selling point.  This is mostly a blend of silicones which means that it applies really smoothly!
The best part of this liner is that this comes with its own eyeliner brush!  The brush is dual-ended.  I prefer the thicker end because it gives me more control and I like the smudgy look.
4. Cargo Swimmables. Use this with the Aqua Cream and the Tarte liner but use it to give yourself a nice bright pop of colour when you want it, and you have a look that's going to last you night and day, wet or dry.
I love Cargo Swimmables, because they're a whole set of mini waterproof pencils in fun colours.  I don't just use them when I'm going swimming.  I use them on a daily basis to add a pop of colour to a neutral eye, or with lots of black liner to smoke out the colour.
Because they are waterproof, these liners totally last the whole day without even a primer needed.  They don't smear and smudge, and their tenacious shimmer has colour not just sparkle.  These smudge easily but then set really quickly and stay put until you wash them off.
The whole kit is $18 which is a steal for 5 pencils.  You can get Cargo at Sephora, The Bay, or Sears.
5. Mary Kay Liquid Lip. I am starting to prefer glosses that have more coverage, and I'm drawn to Mary Kay products.  I loved their Lip Nectar because it had high moisturization and lots of colour, and now I'm equally smitten with the Liquid Lip.
The Liquid Lip is a truly light-weight liquid lipstick.  One coat gives you sheer colour, while subsequent coats can be added to make your lip colour more opaque.  Don't go to this for moisturizing though.  Because the product itself is so light, it has hardly any moisturizing at all, and I mostly forget that I'm wearing anything on my lips save for when I look into the mirror.
The intensity of the pigment and the sheerness of the oils in this product means that it really doesn't melt off in the heat or get overly greasy on your lips.
And there's your whole face totally melt-proof all summer long.  Be safe and look good!