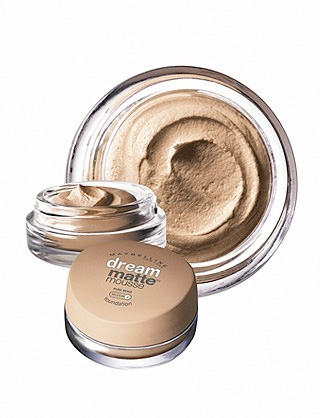 So I normally don't wear drugstore foundation, but that's mostly because in the past I didn't wear all that much foundation and it was usually high end because the testers are more easily accessible. I was in the process of trying a department store foundation and after having gone back three times to exchange the product I was starting to feel like this particular brand simply didn't have a match, or the sales ladies were colour blind.
Either way, I just wanted a day to day foundation that was easy to apply and had moderate coverage. So I popped into my local shoppers and bought the Maybelline Dream Matte Mousse foundation, having rarely purchased drugstore foundation in the past, and never anything in a pot form.
I obviously didn't want to test this on my face, so I did the next best thing: my wrist, which should be the same colour as your face. I swatched three shades onto my wrist and went to go stand under the window to pick the colour.
Do your best to ignore the sales lady that insists that usually, you can get a colour match just by holding the bottle up next to your face! No. You can't. The colour in the bottle is different under different lights, and the container also changes the way the colour looks. Steer clear of anything without testers.
Digressively, the Dream Matte Mousse foundation gets a B+. I don't love it because it's not extremely long wearing; it's probably got 3-4 really perfect hours in it before it starts to fade. But the coverage is relatively good, and the colour match is so good that it makes my skin look flawless when I first put it on.
It's not really mattifying, and I have pretty dry skin, so I probably wouldn't recommend this to anyone with oily skin looking for an oil-controlling foundation because this is definitely not going to do that for you.
Another issue I've read about in the past is that the foundation settles into fine lines and pores. I usually use a pore minimizing serum in the morning, followed by a foundation primer, so this was never an issue for me. I've always found that putting foundation straight onto bare skin accentuates every gross bump I have on my skin, so I tend not to do that, no matter how time saving it is.
The pot version of the foundation is also probably not super sanitary so I try not to apply it with my fingers, which also kind of makes the foundation roll up on itself. Instead what I do is apply with a foundation brush, and pat out any streaks with my fingers or a sponge. The coverage of this foundation is pretty good, so it doesn't take much!
Would I repurchase this? Probably. In a pinch, it's widely accessible, and costs around $12. I'm personally kind of excited to try Dream Smooth Makeup, which is latest of the "dream" foundations.