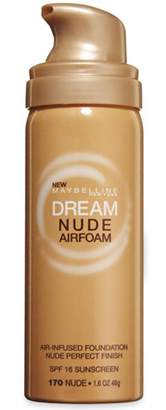 New to drugstores this spring is Maybelline's Dream Nude Airfoam Foundation. This foundation dispenses exactly like mousse you put in your hair, and is a blend of water, pigment, and air. Of the shades I tried, all of them were skin-true and it's nice to see that there are some beautiful darker shades in the mix!
That being said, I didn't like this foundation. The dispenser releases too much at a time to really work with it well. The foam means that the pigment is diluted and because it's in a water base, it dries really quickly making it difficult to blend into skin. Coverage was medium, and trying to build it up just spread the foundation around as it came off the skin when it got wet.
The product is very similar to Shu Uemura's Mousse Base and they're from the same parent company so I can see how the formula kind of transfered over. That formula was easier to work with but the same basic concepts apply to both products.
It's been quite a while since I found a drugstore foundation that really worked for me. For $15.99 this is pretty affordable if you can get it to work for you.