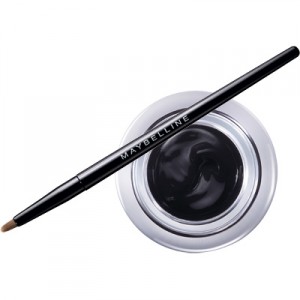 Friends, drugstore makeup can be so hit and miss, but lets face it there are some products available at the drugstore that you would be silly not to buy because they work well and are such good value!
One of these is definitely Maybelline's Eye Studio Gel Eyeliner. The Eye Studio range of products is meant to be more high-end than the regular Maybelline products, and should have better performance, and pigmentation.
The Gel Eyeliner is pretty stellar. It's comparable in wear and pigment to Smashbox's cream eyeliner. That eyeliner doesn't have the darkest pigment out there, but it has great lasting power and is easy to use. Maybelline's is certainly the same. It's easy to get a nice amount of the gel on the eyeliner brush because it's nice and soft and doesn't dry up. It's also fairly easy to work with because it doesn't dry too quickly, so if you make a mistake, you can definitely fix it.
I have the eyeliners in Charcoal, Eggplant, and Brown, and I find myself reaching for the Charcoal and Eggplant again and again. They're just so pretty, and I can use them with just about any eyeshadow. I wish that the brown was darker – more of an Espresso like MAC's Technakohl – but it might be good for those who have light brown hair.
You can get these at the drugstore, and they are worth the price and then some.