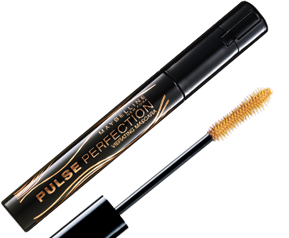 There's no secret here, mascara that moves is turning heads. It was only a matter of time before Maybelline New York Perfecting Vibrating Mascara joined the ranks of Ôscillation by Lancôme and TurboLash by Estée Lauder. But at $19, this mass-market pulsating mascara doesn't carry the hefty price tag of its designer cousins.
And, it makes the cut on all seven must-have levels.
Luscious thickness
Luxurious length
Smooth separation
Intensive colour
Shapely curve
Healthy luster
Zero Clumps
Easy Application
Simply hold the button, place the wand at the root of your lashes and comb through to the tips. The secret is in the zig-zag application process that delivers mascara to every inch of your lashes.