I'm pretty neutral about this lipgloss. Which isn't all that helpful, but it does pretty much balance out in the pros and cons department.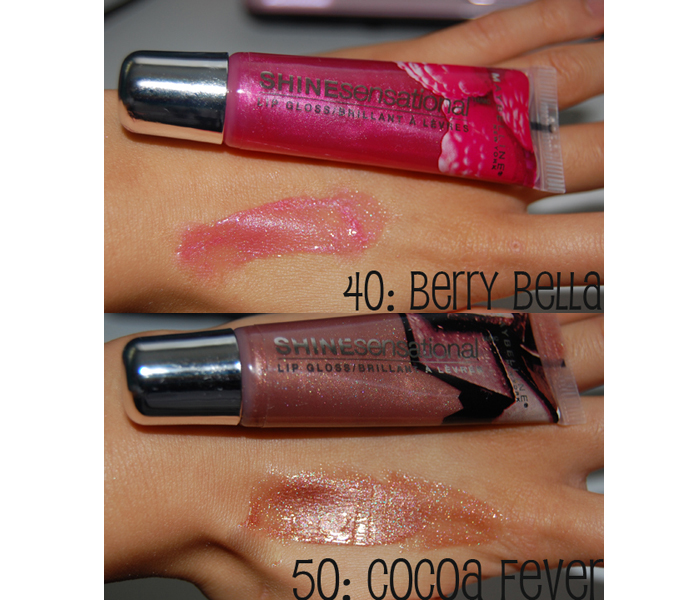 For those of you that like  super high shine lipgloss, this is going to be disappointing to you. It's not that really wet shine that many women love, it's more of a muted glossiness. The Berry Bella is a nice translucent pink, just enough to give you a bit of colour in your lips, which I really liked. Cocoa Fever goes on fairly nude, but wears out to a more bronze, slightly pearly sheen.
It is really hydrating, which I loved.  Also, it was hydrating for hours and hours, even if it wasn't shiny for that.
I have stayed away from lipglosses in this sort of tube form for a while though, because I hate how they sometimes leak from the top of the tube (don't even act like you haven't experienced this. EVERYONE has!) And lo and behold, the Cocoa Fever started leaking at the top about 4 uses in. I wouldn't judge this specific lipgloss by that though, because in my experience, this happens with tube lipglosses no matter how much you spend on it (I'm looking at you, Mac and Lancome.)
I also liked that the lipglosses had a different yummy scent. The Berry Bella smells and tastes like raspberries, and the Cocoa Fever smells like marshmallows after they've melted in hot chocolate.
Overall?  One tube of this costs around $6.49CAD, which I would say is well worth the money, even if you're just using it as something to keep your lips hydrated. It's non-sticky, goes on smooth, and comes in 18 different colours.
Available in most drug and grocery stores.