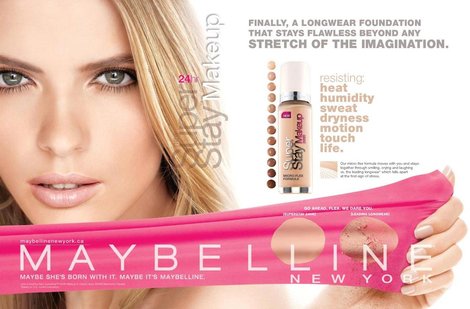 Maybelline Superstay Makeup makes some pretty exciting claims and in the past I might have scoffed and gone to the Dior counter or something, but honestly, lately drugstore foundations have been pretty much on par with their expensive, department store counterparts.
The foundation claims 24 hour, heat and sweat resistant coverage that won't transfer onto clothing. It's also supposed to be flexible, breathable, and oil free.
Really I think the foundation is just okay. For me, it's not the be all, end all of foundations, although there are people out that that really seem to love it.
First of all, the colour selection is really limited. All of the shades that are in my tone range are way too pink for me, which is always gross on olive skin tones because it creates sort of a chalky, way too foundation-ed look. I'm also not a fan of the packaging because to get the foundation out of the bottle, you have to pour and sort of guestimate how much foundation you need. Pumps are always better!
I also found that the coverage was a little thick, which also means that it has to either be applied with a damp foundation sponge or it has to be the absolute perfect match colour-wise for skin. Otherwise, you end up with that chalky look again, and really, what's the point of foundation if you can clearly see it?
The claim that it lasts for 24 hours is a particularly exciting one, which of course is a marketing ploy. How long does it really last? For me, it lasts between 7-10 hours if I set it with powder, and depending on what I've been doing that day, which is still pretty good, but keep in mind that I have dry skin and live in the driest city on the planet. For regular people, or people with oily skin, I'd probably pin it at around 5-8 hours. And I wouldn't say that it's zero transfer either, more like minimal transfer. I wouldn't snuggle up to anyone in a white shirt, even if the foundation is set with powder.
The foundation really isn't bad, but it would be better if they extended the colour range to include more olive tones. It does offer a lot of blending time because it doesn't dry as fast as other foundations. It doesn't feel heavy, and it doesn't clog pores, and if you're using a damp sponge, you only need a tiny bit to cover everything. Pretty satin finish, even without a setting powder or highlighter. If the right colour had been available, I think I would have liked this foundation a lot more.
Around $12CAD where Maybelline products are sold.