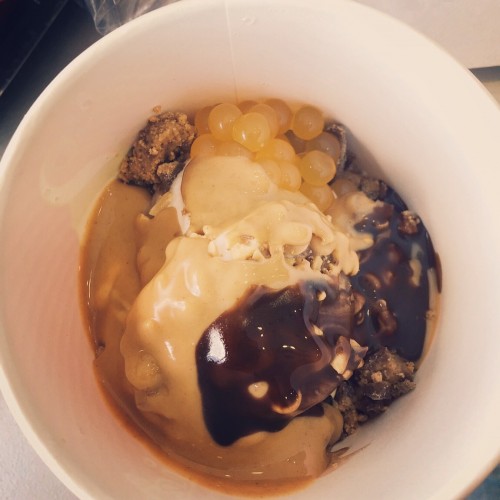 Seriously, I don't think I've seen a hotter summer in Calgary, and that means that I've never eaten more frozen treats. Not only have I been whipping up my own ice cream when there's time, but I've also been indulging in frozen yogurt – it's a nice little outing for me and my family, and I seriously can't get enough.
I head to the Menchie's near my house (45 Crowfoot Terrace NorthWest, Calgary, AB T3G 4J8) and load up on their new Oreo Cookie flavour and add more Oreo bits, and of course more chocolate. Right now I'm addicted to peanut butter (must be that extra protein) and so I've been pouring Menchie's peanut butter syrup on alll my creations – it's #MenchiesMyWay and it's called Peanut Butter Delight!
Now, you can have a chance to be a Menchie's summer VIP and win 7 complimentary Menchie's VIP passes.
Here's what you have to do:
Follow me at @CanadianBeauty and @Menchies_CA on Twitter OR follow me @singhhenna and @Menchies_Canada on Instagram. Tweet or share an image of your Menchie's creation with "#MenchiesMyWay: "NAME OF CREATION".
I will be judging based on presentation and your creativity in naming it. The giveaway ends on Thursday July 31 at 12pm MST. Open to Canadian residents only!
There are 116 Menchie's locations across Canada, and 9 more to open this year, so you can use your passes at a Menchie's near you! There are also 150 frozen yogurt flavours, so you'll never get bored of what's on offer.