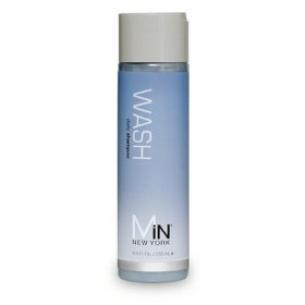 Everybody loves the feeling of a good salon blowout.  You seem to have more hair than ever before, and it's silky and easy to manage to boot.  I've tried to replicate the system so many times – I've tried everything from using the same products, to blow drying my hair the same way, and for some reason, nothing really seems to work 100%.
But now I'm one step closer than ever before, and it's all thanks to MiN New York, a New York based apothecary cum salon that sells their own shampoos and conditioners.
I've been using the Inhibit DHT Shampoo and their Detox Clarifying Shampoo.  Both products are said to inhibit DHT which is an enzyme that can build up at the base of the hair strands and cause them to fall out.
To be fair, I'm not sure on the validity of the DHT enzyme and I'm not sure if it's as easy to get rid of as just washing your hair with a specific shampoo.  I didn't notice less hair fall after using the shampoos, and overall, I think I have the same amount of hair as before.
But, the shampoos are pretty awesome.  They provide gentle but very thorough cleansing, so your hair is silky soft and not at all weighed down after you're done with it.
I hardly needed hair serum after using this shampoo, and I just used my normal conditioner with it.
Luckily, you don't have to go to New York to get this – you can order it online from MiN's website!  They ship internationally and offer their own products in travel sizes so that you can try them without purchasing full-sized bottles.