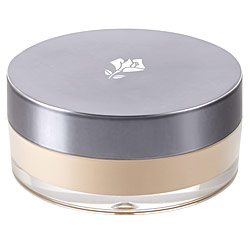 I've not had much luck with the first series of mineral makeup that came out a couple of years ago (I'm looking at your Bare Escentuals), but since then I've found a few brands that have done well and given me good solutions for mineral makeup.
My latest favourite is Lancome's AGELESS Minerale foundation.  It's maybe the best powder mineral makeup I've ever tried.  It's super light so you can layer it on without going overboard.  It has hardly any shimmer so it looks super natural, and the colours that it comes in are unbelievable!  They are so natural-looking and easy to match to your skin.
The powder stays on all day and doesn't get into creases.  It's made without any artificial dyes or fragrances, and contains no parabens or sulfates.  If you have problem skin, then this is for you!
Lancome has also brought out a Kabuki brush to go with this makeup and it makes application really easy.  It's a soft brush that's made of real hairs and if you don't already have a brush with which to apply mineral makeup, then I would suggest getting this one when you're at the counter getting the foundation.
Mineral makeup is here to stay, it seems, and the department store brands are the ones that are doing it really well.