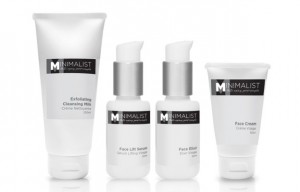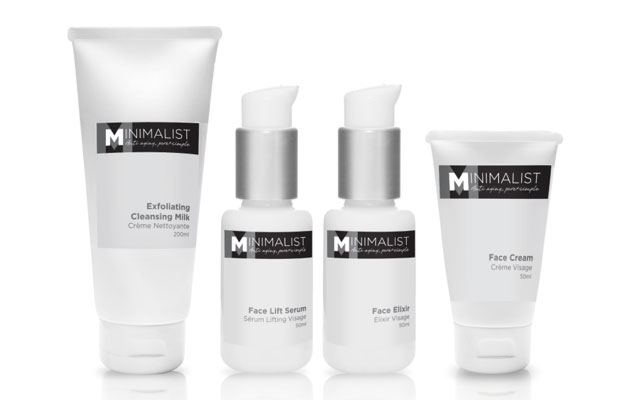 From my brow tint of choice to my go-to daily Aveda Men fragrance, I'm definitely drawn to a borrowed-from-the-boys approach to beauty. So, of course I'm totally into the masculine look and pared down concept behind Minimalist, the new anti-aging skincare line from Pure + Simple co-owner Jean Eng.
The four-product collection is loaded with skin-enriching organic oils and essential fatty acids and designed to improve hydration and texture for aging skin. The Exfoliating Cleansing Milk ($39.95), which scrubs skin with olive seed powder, is gentle enough to use every day but I preferred to wash with it a few times a week. Although I haven't used the Face Lift Serum ($99.95) long enough to expect  results, I like the liquid formula – any time I try a lotion-based serum I just feel as though it's a mislabelled moisturizer. Face Elixir ($49.00) is a gorgeous blend of 100% pure organic face oils such as coconut, avocado and pumpkin. I'm a big believer in using facial oils at night and loved the unique blend behind this one. My favourite product from the collection is the Face Cream ($49.95). With luxe ingredients such as avocado and olive oil, it's rich but lightweight and has an almost balm-like texture. The cream also has a beautiful botanical creamy orange fragrance that I'm in love with.
Although I'd like to see an eye cream added to the collection, the product line is a solidly streamlined approach to anti-aging skincare. With formulas and packaging that are clearly unisex, I could easily share the line with my boy and free up extra space in my bathroom cabinet for other important things – like my ever expanding lip gloss collection.
Minimalist is available now at Pure + Simple stores and online.