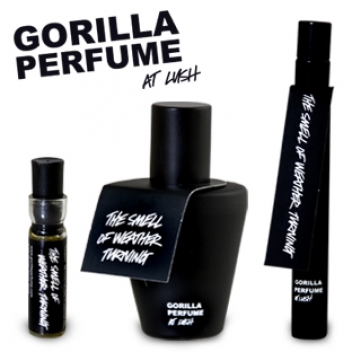 Gorilla perfumes at Lush are my favourite, because they remind me of old-school perfumes.  Each one smells earthy with variations of floral, fruit, or woody notes.
Now they have 9 new scents so that Lush lovers have even more to choose from.
Love is the first scent and opens with apple notes that meld with cinnamon.  The scent is bright and fresh, but I have to admit that it's not one of my favourites because of all the gourmand notes.
Cocktail is a scent that really does remind me of alcohol.  It is slightly masculine smelling with a mix of ylang ylang, oakmoss, jasmine, and sandalwood.  It's a beautiful and promising scent.
Ginger is a re-release and of course features the ginger note that's made even more peppery with the addition of juniper berry.  The scent is vibrant and spicy and perfect for a pick me up!  It has a nice dry finish which makes it one of my favourites.  I can certainly see why Lush brought this one back.
Dear John is a blast of citrus that smells rather like orange juice mixed with cloves and other spices.
The Smell of Weather Turning is the one perfume that fragonerds wanted to smell, and I have to say that it doesn't disappoint.  It does really smell like the outdoors, and it's the addition of mint (so fresh and cool) to hay and oakmoss.  The scent does smell like outside weather, but at the same time I have to say that it's not out of this world and something I would reach for daily.
Superworld Unknown is my least favourite.  It smells exactly like cotton candy and is the Pink Sugar of the Lush family.  Like Pink Sugar, I'm sure this will sell like crazy.
Ladyboy for some reason reminds me of banana antibiotic that I used to take when I was little.  Luckily the banana doesn't last long (maybe 5 minutes on me), and gives way to oakmoss and chamomile.  The sweetness lingers though and this is almost pleasant with the dryness of the oakmoss.  It just works.  Barely.
1000 Kisses Deep is another gourmande with notes of mandarin, osmanthus blossoms, and resins.  The resins and the orange make this on the sweet side but with a steady heaviness.  It smells like an old library.  Lovely but something you need to be in the mood to wear.
Finally, B Scent, which has a sweet lemon and bergamot opening note, that gives way to definite sandalwood, ylang ylang, musk and jasmine.  It's interesting that the opening is such a fruity lemon but there's almost not trace of it at the drydown of the perfume.  I like the scent, but it's definitely a mature one.  Very sophisticated and refined.
Check out the Gorilla Perfume line at Lush stores near you, or online where you have even more of a selection of scents.