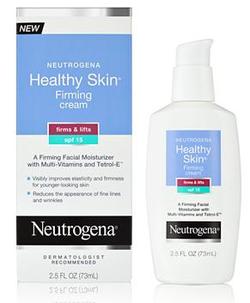 Friends, I know that some of you out there are into anti-wrinkle creams to get really smooth and soft skin; however, it can be difficult to find a formula that's not overly greasy, has active ingredients, and has an SPF in it so that it's appropriate for day use.
I suggest turning to Neutrogena Healthy Skin Firming Cream SPF 15.  It's the same Healthy Skin lotion you used when you were younger, but now it's got a antioxidants, and just a touch of oil-free moisture to keep skin soft and smooth.  The SPF 15 is a bare minimum no matter what your climate is like, and the sooner you add it into your daily regimen, the sooner you can ward off the negative effects of the sun (and that includes wrinkles!).  This moisturizer contains basic UVA protection which is adequate.
I've used the lotion, and it's more moisturizing than the normal Healthy Skin line, but I like that.  My skin just seems to soak it all up, and then I can go ahead and apply foundation on top.   I'm liking using it on a regular basis, though I'm not sure if I really notice much skin-firming.  What I do like about the lotion is that it's easy to wear because it has a smooth finish and works well with my makeup.  My skin looks better when I use this, that's for sure.
The best part is that this is an anti-wrinkle cream that it totally affordable: it's about $25 at the drugstore.