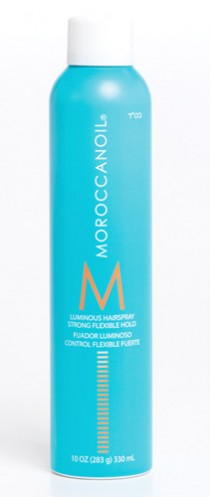 I kind of have a love-hate relationship with Moroccanoil… I don't think that the oil itself can do anything out of this world, but I manage to really like the concept, packaging, and formulas of the products.
My latest find is Moroccanoil Hairspray… really, I didn't want to like this product, I rarely use hairsprays as it is… but the product is so fantastic that it has made its way from under my bathroom counter, to permanently on top.
The hairspray gives amazing shine to your hair. It's probably the best shiny hairspray on the market, and that's important because when you're using so much of it, the last thing you want is hair that's stiff and un-lifelike looking.
I also really loved the scent of this hairspray – it smells almost like vanilla and that's a change from most hairsprays that are out there.
Finally, the hold is amazing. It's light, but you can layer it to get better hold. Because of this, the hairspray is truly one of the most versatile ones I've ever used. Yes, I use it when I'm doing a fancy 'do and I want to keep my hair all in one place, but I've also found that a light spritzing on my wet curls gives them nicer rounder curl, and they stay that way for the whole day. I also flip my hair upside down, spray all over lightly, and let dry before flipping right way up again, so that I can get some volume.
Yes, this retails for more than most hairsprays do, but given how long this huge bottle has already lasted me, I think that it's well worth the money. It's the only hairspray that I've ever found myself using consistently and loving the results every time.