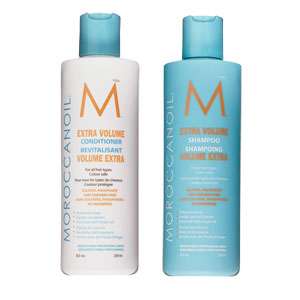 Yup, it's reconfirmed, Moroccanoil products are the best.
For the past few weeks I have been using their Extra Volume Shampoo and Conditioner and they make me want to kick myself for using anything but.  Some how, they've managed to make a shampoo and conditioner duo that is highly moisturizing but doesn't weigh hair down at all.
I use this every time I wash my hair, and it has eliminated the need for a clarifying shampoo, or a treatment mask.  Perfection.
And yes, I know that the bottle of shampoo and conditioner cost over $20 each, but they're the best!