We have a new male writer! Please welcome Harpal Chattha who will be reviewing all things related to men's grooming from now on.  If you have any suggestions for the types of products you'd like to see him write about, leave us a comment below!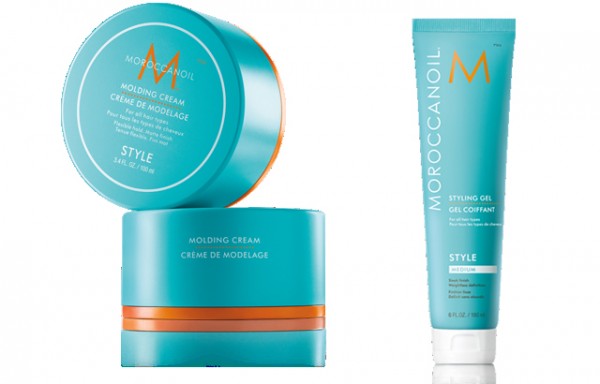 Like most men I have tried many different types of gels, hair creams, pastes and waxes for my hair. Depending on the style of my hair, whether I am getting ready for work, a get-together on the weekend or after the gym I just want something that works with minimal hassle. Rarely have I thought about WHAT I was putting in my hair.
This makes the hair products from Moroccanoil a pleasant surprise. The Moroccanoil Styling Gel ($19.80) and Molding Cream ($28.00) both provide an effective and easy to use set of hair products to get you through your day. Moroccanoil is big on hyping their "antioxidant infused, nutrient rich, innovative formulas" and I will say these hair products do provide something different on the hair care market that separate them from the competition.
Not being a big fan of gels I was a tad skeptical about using the Styling Gel product. How many times have guys been left with that sticky residue after applying a blob of gel to their hair? Moroccanoil products seem to evaporate right off your hands and provide a no-fuss no-muss way to style your hair effectively.  The gel can be used on short hair, but also on longer hair as a blowdrying gel.
The Molding Cream was truly made with the other half in mind.
"We spent years developing and perfecting the Moroccanoil Molding Cream formula," explains Antonio Corral Calero, Moroccanoil Artistic Director. "We wanted to create one single product for men and women that would give professional stylists detailed control over any hair type, length and texture while allowing them to shape, deconstruct or build styles."
The Molding Cream takes things a step further and provides excellent hold, with natural looking hair and is one of the easiest to handle creams on the market. I was very impressed with just how long the hold lasted and the natural feel of my hair as well – both traits that men appreciate and hair care companies should make note of. It was well worth the "you're crazy" look I got from my wife when I asked her to feel and smell my hair – Moroccanoil products definitely passed the test.