Ok people, what do you think about these looks. I have to say that I didn't like them, but on second look I could see why the actress chose them.  Twitter was definitely abuzz about these three looks – stylists and magazine editors alike loved and hated them.  What did you think?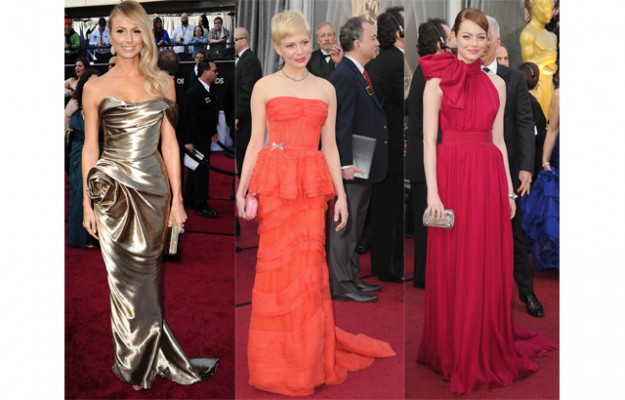 1. Stacy Kiebler in Marchesa.  Marchesa has so many beautiful dresses, I can't see why Stacy Kiebler had to choose this one.  I didn't like the colour and the intense amount of volume down the front.  The rosette?  The only time you should wear a rosette is if you're wearing Valentino, and Stacy is not.  But the colour is unusual, and I think that definitely has to do with her choice.
2. Michelle Williams in Louis Vuitton.  She went with the peplum, and I think that's the only thing I can say about Michelle Williams – that she went for it, and even if the look doesn't work, at least it's cutting edge.
3. Emma Stone in Giambattista Valli.  I love Emma Stone, and she always picks something unique, but I think she could have dressed prettier.  She definitely doesn't get my best-dressed pick, but it's not the worst either, and I kind of love the enormous bow.
What did you think about these controversial looks?