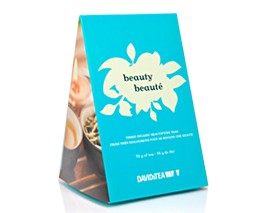 It's easy to grab a gift card and head out to a Christmas party, but a thoughtful creative gift can go further in pleasing your host and telling her or him that you're really thinking about them!
To that end, I have to recommend David's Tea as one of the best gifts around, especially since I just got gifted some myself and am thoroughly enjoying it!
To understand the magic that is David's Tea, just check out their website. These people are serious about tea and they have tons of really unique products. I got the Beauty Tea Trio (of course) which contains a generous 25g sampling of David's Delicious Detox tea, The Skinny tea, and Strawberry White tea. The teas fight free radicals and help you cleanse your system so that you can be beautiful from the inside and out!
I also got a sample packet of their loose leaf tea filters which have changed my world – really, did you know that you didn't have to just spit out the loose leaf tea? You can actually get filters so that it doesn't go into your mouth! Crazy, I tell you!
The Tea Trio retails for $15, and is available online or at a David's Tea location. David's Tea is all over Canada, so head to their website to find a location near you.