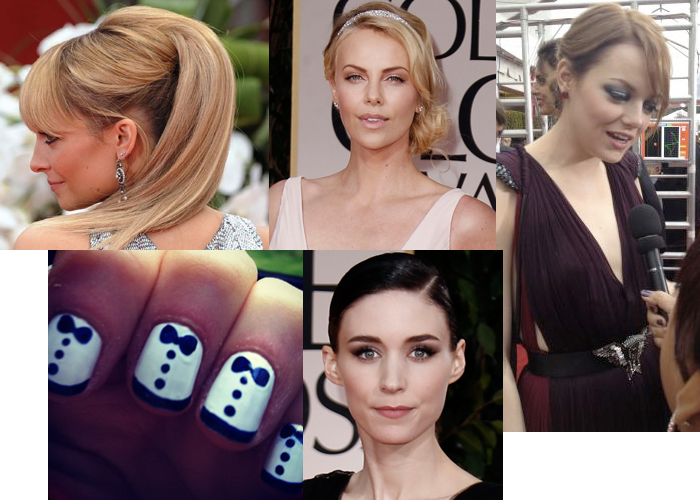 We know that the focus is always on the dresses but there was so much more to the Golden Globes Red Carpet this year. Here's something to keep you in the loop with your office mates – last night's Golden Globes' most talked about accessories.
1. Nicole Richie's Hair Extensions. Matched with a metallic dress (which she said was really heavy because of all the beading), the overall look was like she was from outer space… that said, she totally worked it, and the pinned hair was perfect. I think if you're going to go with something so daring, you have to be confident and she certainly was!
2. Charlize Theron's headband. Was it a throwback to the '20s? Was it tacky? Did she look like a schoolgirl? You decide. Again, it was worn with flare and class and Charlize worked the look up and down the red carpet. Also, she wasn't the only one wearing a headband last night, but of all the looks she was the best.
3. Emma Stone's belt. Some said that it looked like a Superman sign or that she looked like Wonder Woman. We think that this just wasn't pretty enough for the Globes. Emma should have worn a prettier dress so that the focus was on her and not on the belt!!
4. She wore a Prada dress but her nails wore Tuxedos! We are talking about Zooey Deschanel's nails which she tweeted about. They were so pretty and quirky. They also reminded me of something Katy Perry would do and that's just fine. At the same time I have to say that they're not my favourite accessory of the night.
5. Finally, the best accessory was Rooney Mara's smoky eye. It was edgy, formal, and totally perfect for the event. Unlike most starlets who paired smoky with a red lip, she kept the rest of her look neutral even sporting a short ponytail instead of really fancy hair. This was our favourite look of the night.