OK, so my friends at Murad have decided to sponsor a giveaway! I have TWO bottles of this awesome moisturizer to give away. If you need help with skin brightness, and need to add an antioxidant into your regimen, this lotion is for you. You need to tweet me @CanadianBeauty and @MuradCanada and tell us what your latest beauty purchase was. Use the hashtag #MuradGiveaway. I will pick a winner Wednesday October 1st!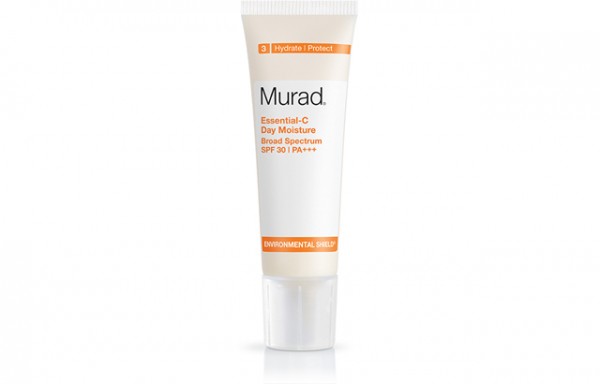 I love using a sunscreen on a daily basis, and when it comes cocktailed with ingredients that are good for the skin… well, that's a win-win, and that's why I was drawn to Murad's Essential-C Day Moisture SPF 30.
If you're looking for a new daily sunscreen/moisturizer to add to your regimen, this should be it.
The lotion is extremely light and non-greasy, and the vitamin C helps prevent antioxidants from wreaking havoc on your skin, while the SPF 30 prevents sun-damage. It's a great and easy way to amp up your current skincare regime.
I've been using this lotion for a couple of weeks now, and I have to admit that I'm not seeing the crazy glow that a Vitamin C serum gives me, but my skin looks supple and feels soft when I use this. It doesn't ball up under foundation and absorbs into skin so easily – it's perfect to use every day of the week.
This is the perfect moisturizer for combination skin – it's hydrating enough for your dry areas, and light enough for oily areas.
Pick it up at online at the Murad Canada website for $69.