Here are some gifts that are so fantastic that you will be tempted to just keep them for yourself.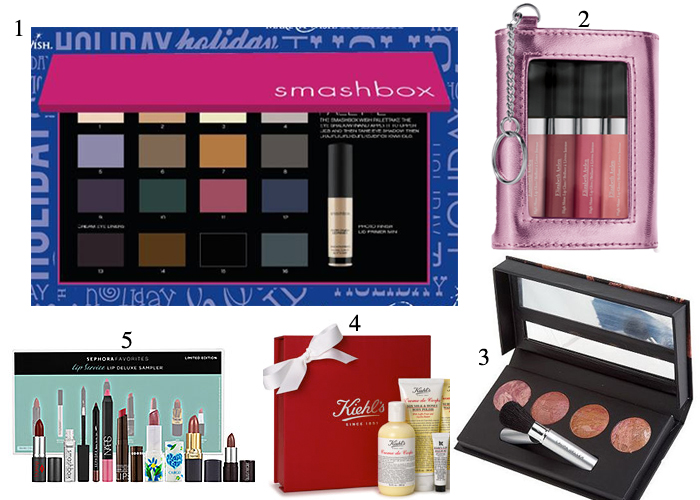 1. Smashbox Eye Wish Palette. This year I can create the perfect nude or smoky eye all from one palette. This Smashbox palette has 12 shadows, 4 cream eyeliner, and even a set of instructions for a variety of different looks. Finders keepers, because Smashbox has the best quality shadows and even though the liners aren't the most pigmented, they are very versatile and make great bases for layering. With everything in one box, you won't find me rummaging through my makeup drawer either.
2. Elizabeth Arden Lipgloss Deluxe Pouch. My lips are thanking me for finally finding a gloss that isn't sticky at all. This set of mini glosses will give you lots of options when it comes to getting the perfect lip but the high pigmentation and finish means that you can look polished at the same time.
3. Laura Geller Baby Cakes Baked Minis. This is a set of mini Laura Geller blushes, and it makes a perfect gift because you can now give a fun makeup product without having to worry about picking the right colour for the person you are shopping for. Best of all, Laura Geller formulations are perfect for all skin types because they don't have any oil in them. This is a fool-proof gift for the person who doesn't always splurge on new makeup products on themselves. The set even comes with its own retractable brush!
4. Kiehl's Creme de Corps Collection Gift Set. I adore Kiehls products because although they are basic, they really do work. Introduce a friend to this great new brand or stock up on your favourites with the gift set! You get full-sized products their amazing Creme de Corps body lotion (which moisturizes more like a cream) and their Creme de Corps washing cream and Honey Body Polish, which are shower must-haves this time of year. There's even their #1 Lip Balm which is probably one of the best lip balms out there. This is the perfect gift for that no-nonsense person in your life, who likes luxurious basics and nothing else.
5. Sephora Lip Service Deluxe sampler set. There is one reason to get this set for yourself and for your smoky-eyed friend: the majority of lippies in this set are nudes that will work with many skin tones and come in different finishes. I have found my nude lipstick from Tarte and Cargo and I couldn't be happier. There are also a couple of reds in case you're feeling adventurous.