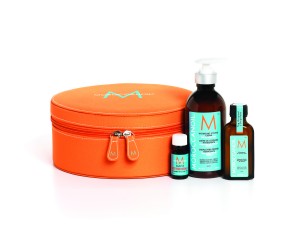 I don't know about you guys, but I've already begun my count down to vacation and thinking about it made me realize that a few lucky readers out there are probably going to be heading to warmer climes.  And that made me think of some of my favourite products to travel with, and I thought I'd share them with you.
Going on vacation is fantastic because you get away from it all, but more and more, I've started to realize that traveling means lots of pictures, and that means that a good hair day is a must.
You could rely on hotel shampoos and conditioners, but I have found them to be hit and miss, unless you're at a luxury hotel that supplies brand name items.
To that end, I've taken to traveling with my own supplies, and I think you should too.
The best travel kit I've found to date has been one for my hair!
Moroccan Oil's Travel Kit was a godsend to me when I was traveling this summer.  My hair got parched from the sun, and the hydrating shampoo and conditioner were so creamy and such a welcome change from the cleansing products my hotels had.  The kit also includes the original Moroccan Oil serum, which you'd need anyway, as well as their Hydrating Styling Cream which is an absolute must if you're going to be in a chlorinated pool on your vacation.
The kit costs $58 and is worth every penny.  All the products included are travel-sized, and I got about 5 full shampoo and conditioning treatments from this kit, so if you're planning to go for longer than that time, maybe don't use the shampoo and conditioner every single day.