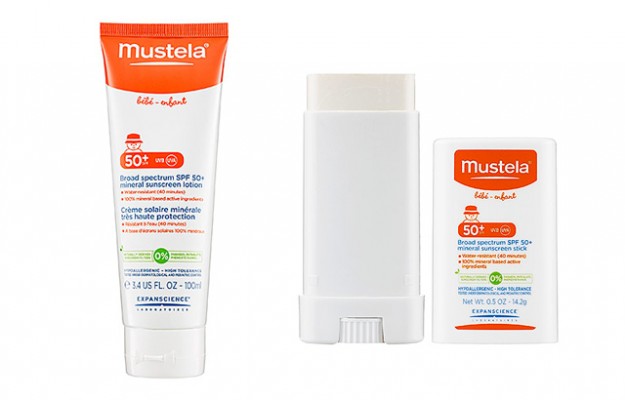 We love Mustela baby products because they're gentle, effective, and formulated especially for babies, so of course, we picked up Mustela's Broad Spectrum SPF 50+ Mineral Sunscreen Lotion for our little one to use on vacation.
This blue-white lotion goes on easily and provides broad spectrum protection from the sun. The cream contains titinium dioxide and zinc oxide which are physical barriers from the sun and provide gentle protection that's safe enough to use on babies 6 months and up.  
Unlike sunscreens for adults, we actually like that this lotion goes on white and stays white – it makes it easy to see where you've applied sunscreen and where you haven't, so there's less of a chance of missing a spot.  That said, the whitish tint does go away with a lot of rubbing – if that matters.
Mustela also has a SPF 50+ Mineral Sunscreen Stick which makes it very easy to apply sunscreen on the face and ears.
Mustela baby products are fairly easy to find – Shoppers Drug Mart, Target, and Well.ca carry them.  They are among the best in French pharmacy skincare, and absolutely amazing for babies.