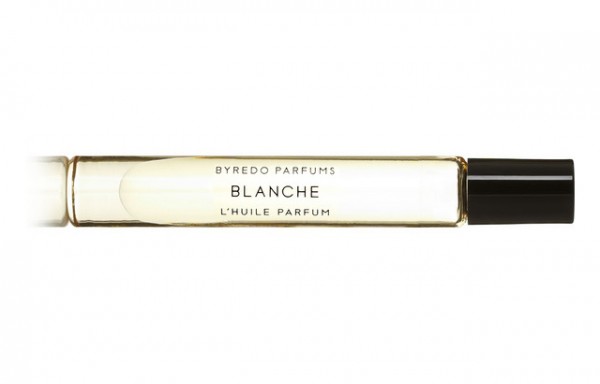 I was so excited to finally get my hands on a Byredo scent.  I wanted something new for the new year, and so went online and did a little searching and reading.  I was originally going to get Byredo's Gypsy Water, somewhat for the cool name, then thought of getting Rose of No Man's Land, because I love roses, but finally decided on Blanche because it was so well-reviewed and seemed to be the "popular" scent.  It also had White Rose and Sandalwood written beside it, and well, that's what gets me.
I read the description: clean, fresh, and like the name suggests, white.  It's supposed to invoke innocence but also warmth.
I'm not usually for clean scents… but it was the beginning of January, so I thought, why not?
Well, I have to say that I'm disappointed.  Blanche doesn't smell bad, but it does smell just like laundry detergent.  Well, I do a lot of laundry, run the dishwasher daily, and am washing a lot of dishes, so I smell detergent all the time.   The last smell I really want to apply on to myself is something that smells just like Tide and Bounce.
Yes, Blanche is clean and warm like clothes coming out of the dryer, like steam after a soapy shower, like clean babies, but it's just not exotic enough for me.  I like scents to be transportive and exotic.  I was wooed by the description of sandalwood in Blanche's drydown, but I didn't smell enough of it and there was just too much powdery musk instead.  I didn't catch any white rose or peony in the opening and from beginning to end, this smelled like clean fresh soap… which I smell enough of during the day anyway.
I do love that this scent comes in a rollerball oil.  Oils tend to stick to skin better, and you can apply them exactly what you want with the rollerball.  Le Labo also sells oil versions of their scents, but in a dropper format which is less elegant to use.  I might still travel with this because I like the concept, but I definitely don't find myself reaching for it at all.  Maybe if I was going on a plane ride or camping, this might be my scent, but it's not cool enough for everyday use, and for a premium scent, I'd like to use it for more than hanging out in nature.
Available at Net-a-Porter.com. $78.