I'm addicted to my iPhone and my latest greatest discovery is that my gym – Gold's – has an iPhone app!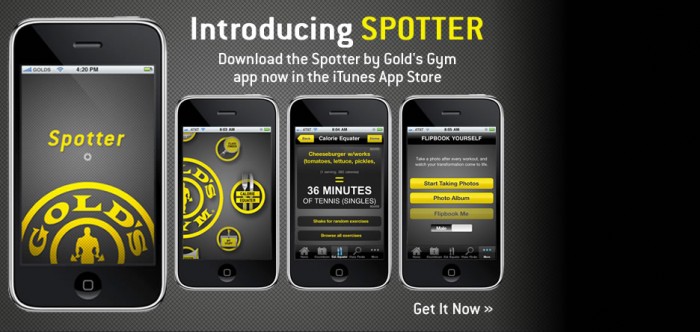 It's called Spotter and it's totally free.  Features include finding a gym near you, seeing the entire schedule of classes offered in a day or week, and my favourite part: Goal Count Down.
The way it works is that you put in what your goal is – a wedding, pictures, a fitness competition, etc – and you also fill in when the goal will be.  Then you put in how you're going to measure your progress towards that goal.  Will it be in weight gained, weight lost, how long you can run, or how much you can lift?  Then you put down how much you can do right now, and as you work towards your goal, you can keep filling in your progress.  Every time you click on the Goal Count Down, or on "My Stuff" it will show you how many days you have left to work towards your goal.
The app also has a calorie equater, in which you enter what food you want to eat (chocolate chip cookies, my weakness) and it will tell you how long you need to do a given exercise to burn it off (in my case 35 minutes on the elliptical). 
There's also a motivation tool which you can click on when you're not feeling motivated.  It will give you motivating messages, like: "A good workout now means great sleep later" which is my personal favourite because it's so true!
Do you have a fitness app that works well for you? Please share!