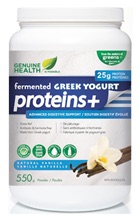 I'm kind of into working out and taking care of myself right now. I aim to hit the weights at least four times a week, and in my need to refuel quickly, I've turned back to protein powder.
I know people shy away from using it because they think that it tastes bad or that it has an after-taste, but you just have to look for the right kind.
I've started using this Genuine Health Proteins + powder.  It's made with fermented Greek Yogurt and is chock full of probiotics which makes the protein a little bit kinder on my tummy, and the vanilla flavour tastes so good that I can put it into smoothies or pancake batter and still have it taste amazing.
Yes, I said pancake batter.  If you want an easy way to incorporate more protein into your diet, you need to try adding this into baking or cooking, but of course, it tastes just as good blended with a banana and peanut butter, or with some strawberries and milk.  Try it for yourself!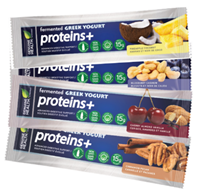 I'm also in love with the protein bars from this same brand – they actually taste good, with no funny after-taste!  I've tried a couple of flavours of the Quest bars that everyone loves, and I couldn't get behind them, but these I could gobble up and quite enjoyed.
Visit www.genuinehealth.com to find a store near you.