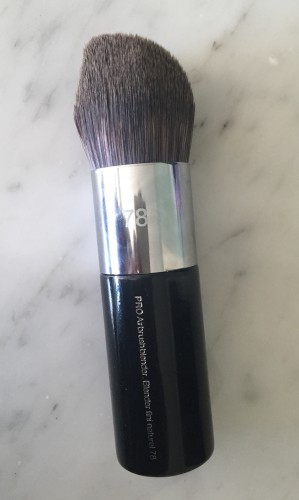 I hate getting my hands dirty when I apply foundation in the morning because then I have to wash them and that leads to drier hands.  Instead, I use a foundation brush most days, and these days I have religiously been using and then washing my new Sephora Pro Airbush Blender #78.
This is a very fat synthetic brush that works very well at distributing foundation to the face.  Because it's so fat, you won't be able to get the smaller areas like the side of the nose or the inside of the eyes, but if you like to apply foundation all over anyways, then this is a brush that will work for you as it does for me.  Its size lets me quickly spread and blend foundation and I apply foundation to my eyelids, so I can dab it on there as well.
The fact that the top of the brush is rounded means that there's less streaking than with a traditional foundation brush, and because it's so thick, it does a great job of blending foundation in a relatively small amount of time. 
$48 at Sephora stores.