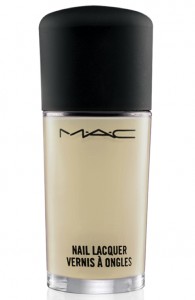 I am currently wearing In the Buff, from MAC's To The Beach collection.
This is a taupish avocado green.  Think the inside of the avocado and you've got this colour down to a tee.  The thing I like about it is that the pigmentation is as smooth as the inside of an avocado as well and it's super easy to apply and wear.
It looks great against tan hands, and I love it more than a bright lacquer for the summer!