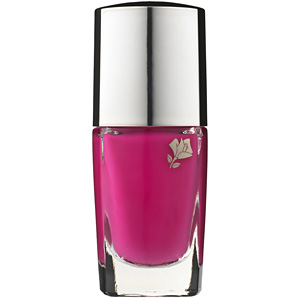 It's officially summer (at least in my head, although the weather forecast says that it's going to be 9 degrees in couple of days), and so I'm bringing my makeup up to speed.
That of course, means wearing a nice bright polish on my fingers and my toes!
The nail colour of the moment is Lancome's Ms. Perfectly Pink from their summer 2010 collection. This is a cream hot pink that just happens to be the perfect shade because it's not too neon and it's still bright. Love it!
Also, this has amazing staying power. I used it with my Yves Rocher base and top coat, and I didn't even have 1 single chip after 7 days of wear! It might be the base and top coat talking but my manicure with just products from the Yves Rocher didn't last as long so I'm convinced that it's the Lancome polish that's working well.
Ms. Perfectly Pink is on Lancome counters now or you can get it online.