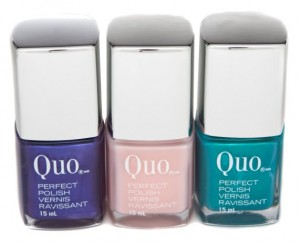 I'm wearing Bliss by Quo today. Quo is sold at Shoppers Drug Mart, and this colour is from their Couture collection for fall! The Couture collection celebrates Quo's 10th anniversary so the colour selection is great. They have some really fun products, like the nail polishes which they don't usually carry, as well as a couple of palettes that I really enjoyed using. The colours are Flirt (Deep purple), Sugarcoat (pale pink) and Bliss (turqoise).
All the nail colours for this collection are super shimmery and pretty. I kind of like that Bliss wasn't totally opaque on the first coat because that means that I can wear it sheer when I don't want something as eye catching. Turquoise polish has to be the "it" colour this season, so it was easy to incorporate this into my wardrobe.
Lasting power for these polishes is decent! Mine didn't chip until I was ready to take it off 5 days later.
Quo's Couture collection is available at Shoppers Drug Mart right now and for a limited time.