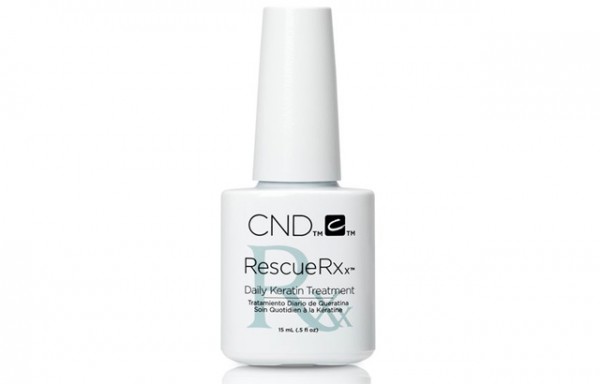 I've never bought that nail polishes which claim to repair damaged nails really work, but I do have a finger that has a persistently peeling nail so I've tried almost everything out there and truly nothing ever worked.  I think it's the combo of the inherently unhealthy ingredients in a nail polish base that negates any possibly good ingredients that might be in there.
When CND came out with RescueRxx Daily Keratin Treatment, which is actually an oil and not a nail polish, I was still skeptical.  I mean, I used their Solar Oil on my cuticles and it worked great, but did I really need another oil on my nails?  If they really had some great ingredient for my nail, could they have just put it in my Solar Oil?
But of course, I finally triedRescueRxx and um, I have to say that I'm totally BLOWN AWAY by the results.  Do you know people with naturally strong beautiful nails?  You know how the ends are whiter, thicker, and stronger?  Well, that's what RescueRxx gave me.  In fact, I saw results from the very first treatment.  You're supposed to apply the product on bare nails every day, but of course, I forgot after day one, and then couldn't figure out why my nails looked so good on day two and three.
It was the new CND product, and now I'm hooked.  If I'm not wearing nail polish, it's RescueRxx on my nails and they look better for it.
The formula has keratin in it and they promise that it will give you results in one week – like I said, I noticed the difference in one day, and a week of use means that the healthy look of my nail is sustained.
Pick up the treatment at a salon that does Shellac services.