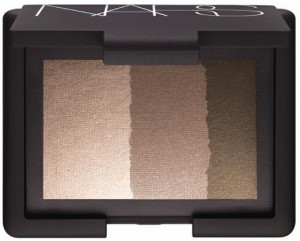 I finally got my hands on the Nars Calanque Eyeshadow Trio that launched as part of their Spring 2011 collection. I love the trios because I think that they're a more economical way to buy the Nars shadows, and I like that the colours are meant to be worn together.
Calanque is going to sell out because of all the lovely neutrals in the trio. The lightest colour is on the sparkly side, while the middle colour is a shimmery one. The darkest colour is very heavily pigmented. I couldn't not use it in my crease because it was just too dark, but it looked pretty as a liner for a hint of colour.
Will you be springing for this group of shades, or is it not worth it because you already have something like it in your collection?